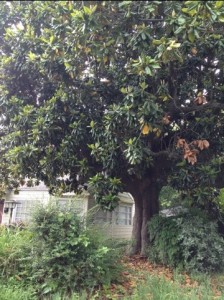 There is a magnificent magnolia tree on the corner of my lot that's at least 80 years old. My neighbor said he has a photo of his house from the 40's that shows the tree as pretty large at that time. That tree is part of the neighborhood's history!
The lot is already small, and initially I didn't think we could save it without destroying its roots and ultimately killing it during construction. But Rebecca, my architect, went out to the lot to take measurements, and she thinks that if we do a partial porch on the front of the house, we should be able to save that beautiful tree!
When she mentioned this, I was hopeful but skeptical. This whole project is about not causing more damage than necessary, and it would break my heart to tear it down. But I knew from experience that it could be very costly if the tree didn't make it. There was a tree about 5 feet from my current home that I desperately wanted to save. And against the advice of Shannon, the builder that was mentoring me, I decided to leave the tree. Within a year, it had died from the trauma to its roots during construction. I finally had to pay to have a 50 foot tree taken down, and with a house 5 feet away, a fence and air conditioner another few feet away, it was a difficult and expensive task.
After I talked to Rebecca, I called David to ask his opinion. As well as being a licensed builder, electrical engineer and all around good guy, he's also a certified arborist. We met out at the lot and spoke with my neighbor, who's a landscape architect to get his opinion.
David agreed with Rebecca. So unless we run into unforeseen obstacles, the tree shall be saved! It will have to be trimmed by a certified arborist, and the tree will be very close to the house, but it will provide really nice shading on the southwest side of the house, while preserving the beauty and history of the property!
I had planned on using an insulated concrete slab for the home's foundation, but to make sure we don't cause too much root damage, I'll have to use helical piers and an insulated crawl space as the foundation. I'll also have to be extra diligent at keeping all construction equipment off of the trees roots.
The front of the house will have a partial front porch, which I think really adds a lot to the exterior of the home. It adds some complexity and uniqueness to the architecture. Here are some rough sketches in the works for the exterior. I love the sketch on the middle left! I can see it all coming together!