In Avondale, the zoning regulations say that a detached garage can't take up more than 30% of the back 25 feet of a lot, but since there's no alley access and my lot is so narrow, a 2-car garage would take up about 40% of that area, which means I have to apply for a variance. Here's a link to the site plan if you want to see a visual of where the garage sits on the property. (You can also see the first floor plan; we angled the back wall of the master to create a little more space in the bedroom without encroaching on the driveway!) Site Plan_062012
I spoke with the variance guy at the city today about getting the approval, and apparently the deadline for their July board meeting was yesterday, but he said if I got him the paperwork today, he could try to squeeze me in. (I swear it feels like there's some unwritten rule saying that every tiny step of the building process must take a minimum of six weeks!)
So I rushed to get everything together and ran down to city hall between appointments.
I walked in, and the building was vacant. It seemed strange, but I looked around and tried to walk through the metal detector. At that moment, a guard appeared and said I would have to leave, the whole building had been evacuated because of a gas smell that has been permeating the city of Birmingham today.
Shucks!
So I called and left variance man a message. Hopefully he'll still take my paperwork on Monday, and hopefully, they'll approve it in July! That's the first hurdle to getting the building permit.
If the variance gets approved, I should be able to take my elevations, color rendering, material samples and landscape design to go before the historic design review board in July. Once we have their approval, then we can finalize the construction documents and start building!
I did get some disappointing news last week when I talked to a city official. Things seem to change according to who you talk to, but when I went in person, they told me I wouldn't be able to get a permit for the garage alone. I'll have to get the permit for the house and the garage at the same time. Because the garage is an accessory structure, you can't get a permit for the accessory structure unless there's a primary structure that's already built. I'm still hopeful that I'll be able to move along more quickly with the garage, so that I can use it for storage while I build.
Here are some images of the exterior elevations, so you can start to get an idea of what the outside of the house will look like!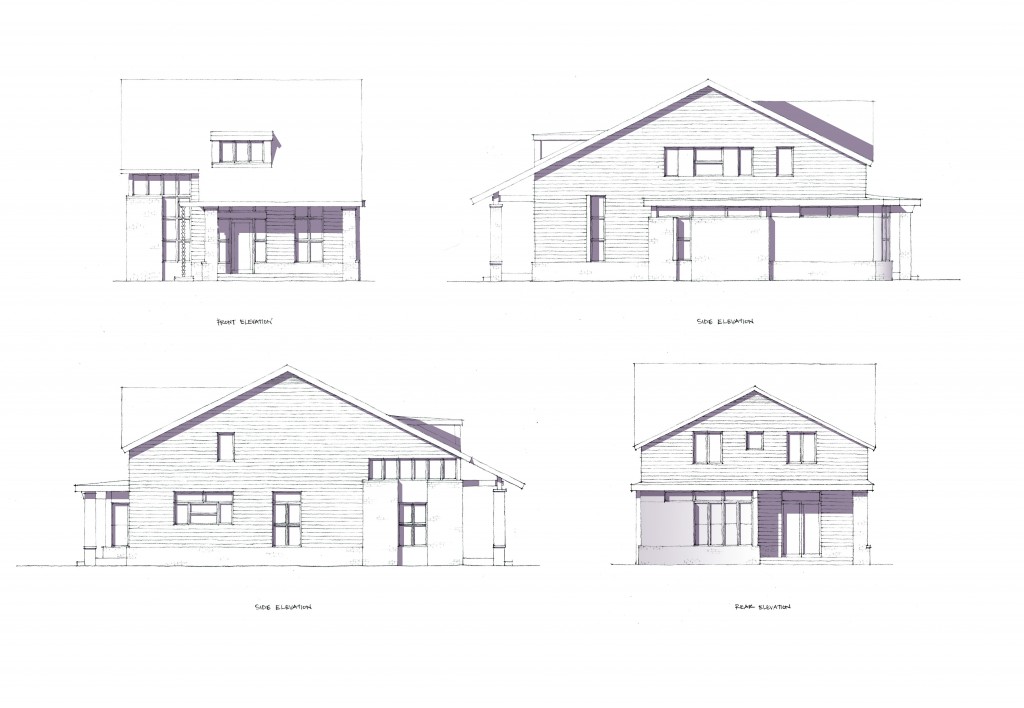 I'm working on a color scheme right now, but I'm leaning towards an old looking Bessemer like red brick for the foundation, the brick columns, and the partial brick walls of the house, then a blue/green/ grey color for the siding, chocolate brown on the window trim and eaves, and a bright red for the doors and window grids!
Any thoughts?
🙂